Farm-to-school program. Q&A with Mary Boyd and Jamie Labbe of West Tisbury School, West Tisbury, Mass.
West Tisbury Farm-to-School Program
Tell us about your school.
Mary Boyd, Asst. Principal: The Up-Island Regional School District has two buildings, the West Tisbury Elementary School and the Chilmark School. We also house a district pre-school. We have about 365 students within West Tisbury School; the Chilmark School houses about 60 students, inclusive of a private preschool. We have a wide, diverse student body and it's a pretty great place to be.
What makes your school food program unique?
MB: When the West Tisbury School was remodeled in the early 90s, as a cost-saving measure, it was built with a kitchen that wasn't capable of producing food. For many years, students got meals from the high school that were kept hot and served here. We wanted to change that and make more home-cooked meals for our kids — building a farm-to-school program. Over a series of years, school administration partnered with local businesses, tradespeople, and community resources to plan, remodel and refurbish the shell of a kitchen into a working space. We separated from the high school in 2013 and became an independent lunch program, with the West Tisbury School producing all the food for the West Tisbury and Chilmark schools. The program centers on the concept of farm-to-school. We source meat from local farms. We are able to showcase locally grown vegetables year-round through our process of gleaning, processing, and storing produce. Our partnership with local fisheries supports our weekly Fish Friday. Our goal is for every meal to have some amount of locally sourced food in it.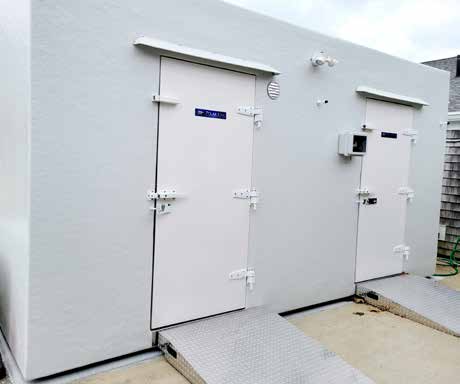 You recently added a Polar King combination cooler-freezer. How is it working for you?
Jamie Labbe, Head Custodian: It works fantastic. You should have seen what we upgraded from — galvanized metal, individual panels, Allen wrench-screwed together. It always had compressor issues. It would overheat because it would gather so much heat on warm days. On a couple of occasions, when we would have freezing weather, we lost hundreds if not thousands of dollars worth of food because it went down and froze everything. The Polar King is so user-friendly, and there's so much more space than we had before. I can't say enough about it.
How has the service been from Polar King?
JL: If I have any technical questions — [response] has been five stars across the board. I deal with a lot of contractors and customer service, and the Polar King reps definitely shine for sure. Is it better than your previous walk-in? MB: Soon after installation of the original panel unit, we started having issues with the walk-in and trying to get it functional. There was constant finger-pointing between the vendor and installer. We don't give effusive praise easily, but we like to make sure we give it when it's deserved. Polar King certainly deserves it. We've been very impressed.
About Polar King
As the industry's #1 manufacturer of seamless fiberglass outdoor walk-in coolers and commercial walk-in freezers, Polar King units are designed to endure even the most rugged conditions and climates. All Polar King commercial walk-in coolers and outdoor walk-in freezers are delivered fully assembled and require only a simple electrical connection to put them into operation. With a 100% seamless fiberglass design, Polar King offers the industry's only one-piece, outdoor unit. To learn more about the fiberglass advantage or for more information, call 888-647-8231 or visit www.polarking.com.