Polar King Mobile executive vice president Christian Aitken announces plans to exhibit at this year's North American Trailer Dealers Association (NATDA) Trailer Show, which takes place Aug. 31 – Sept. 2 at the Music City Center in Nashville. The company booth will display a state-of-the-art refrigerated trailer, and Aitken will be in attendance to recruit new dealers and foster relationships with fellow NATDA members.
Dealer executives and media personnel are invited to stop by the Polar King Mobile booth (No. 916), where Aitken will be available to answer questions about the featured 6' x 16' refrigerated trailer, as well as the many other advanced cold storage solutions offered by Polar King Mobile.
NATDA Trailer Show
"The NATDA Trailer Show is North America's largest trailer-dealership-specific trade show, so it's fitting Polar King Mobile should showcase North America's first line of small, affordable refrigerated trailer solutions," says Aitken. "Considering we established Polar King Mobile two years ago at the height of the pandemic, we are particularly looking forward to sharing our units with trailer industry professionals and, more importantly, forming new relationships."
In addition to Aitken, five other Polar King Mobile representatives will be on-hand at NATDA 2022 to welcome visitors, including Barry Tippmann (principle), Gary Cooper (service manager) and Rob Henry (director of marketing).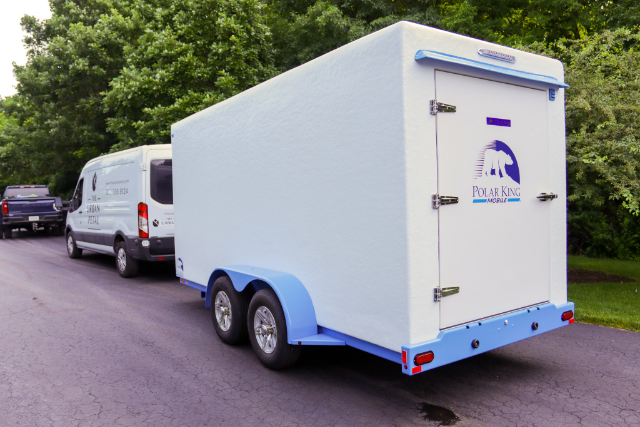 "We are eager to meet with NATDA members, listen to their insights and develop new partnerships with dealers across the country, specifically in western states," Aitken says. "Polar King Mobile offers one of the only 110V 15amp cooler/freezer units available on the market, and currently in North America, there has not been an organized, focused, and funded effort to satisfy the needs of customers who want small refrigerated trailers. With our manufacturing capabilities and construction methods, Polar King Mobile is uniquely positioned to serve these markets."
Polar King Mobile refrigerated trailers are designed and engineered specifically for outdoor and over-the-road use. PKM's 100% seamless fiberglass design provides a continuous surface with rounded insulated corners to promote a sanitary environment.
To learn more about the NATDA Trailer Show, visit www.natda.org/trailer-show.
To learn more about Polar King Mobile, visit www.polarkingmobile.com or call 866-586-2051. Potential dealers should email Christian Aitken at christian.aitken@polarking.com.
About Polar King Mobile
Polar King Mobile was founded in 2020 to provide North America with its first affordable, small refrigerated trailer solution. The company's refrigerated and freezer trailers, engineered specifically for outdoor and over-the-road use, feature a 100% seamless fiberglass design with a continuous surface. Polar King Mobile trailers are used by single-unit operators, chain restaurants, schools, health care facilities, government agencies and many others requiring dependable outdoor refrigeration. For more information, visit polarkingmobile.com or call (866) 586-2051. Polar King Mobile is located at 4410 New Haven Ave Suite A, Fort Wayne, IN 46803 USA.