Polar King Mobile offers several accessories to enhance our line of refrigerated trailers. Dealers can purchase these accessories for resale or order them to install at their own facilities. Accessories include spare tires, steps and ramps, generator mounting plates, and a 6000 lbs. HD axel.   
Polar King Mobile Accessories Include:
Spare Tires
Spare Tire Mount
Generator Plate
Trailer Step
6000 lbs. HD Axel
Spare Tire and Wheels
Polar King Mobile offers two different sets of spare tires, a 5-lug nut, and 10 lug nuts. These tires fit the 16' trailers as well as both the 8' and 12' trailers.  
Spare Tire Mount
Provide easy access to your spare tire with this simple to install mounting bracket. Pre-drilled holes allow you to attach the spare tire mount to the side of your refrigerated trailer.  
Trailer Step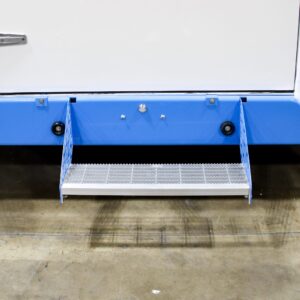 Easy to install, the Polar King Mobile step accessories makes it easier to enter and exit the refrigerated trailer. With predrilled bumper slots, the trailer step can be easily installed and removed when needed.
Generator Plate
The generator plate is ideal for users who require generator power for their refrigerated trailer. Predrilled holes at the front of the unit makes for easy installation and use. This is the perfect solution when onsite power is not an option.
6000 lbs. HD Axel
The 6000 lbs. HD Axel is specifically designed for Polar King Mobile's 12ft. refrigerated trailers. This optional accessory allows users to increase the storage capacity weight of their trailer unit.
About Polar King Mobile Accessories
Polar King Mobile was founded in 2020 to provide North America its first affordable, small refrigerated trailer solution. The company's refrigerated and freezer trailers, engineered specifically for outdoor and over-the-road use, feature a 100% seamless fiberglass design with a continuous surface. Polar King Mobile trailers are used by single unit operators, chain restaurants, schools, health care facilities, government agencies and many others requiring dependable outdoor refrigeration. For more information, visit polarkingmobile.com or call (866) 586-2051. Polar King Mobile is located at 4410 New Haven Ave Suite A, Fort Wayne, IN 46803 USA.