Polar King Mobile refrigerated trailers are constructed with a seamless fiberglass design and are available in three standard models, 6'x8', 6'x12', and 6'x16'. Each trailer features 54-inch reinforced doors, four-inch walls, a pallet duty floor, and interior antimicrobial gel coating. The actual cooling of the trailer is achieved using a GOVI arktik 2000US series refrigeration unit. These compact units provide a temperature range of 0°F to 50°F, are all-electric, and require only 110V and 15 amps.
Polar King Mobile Refrigerated Trailers
PKM68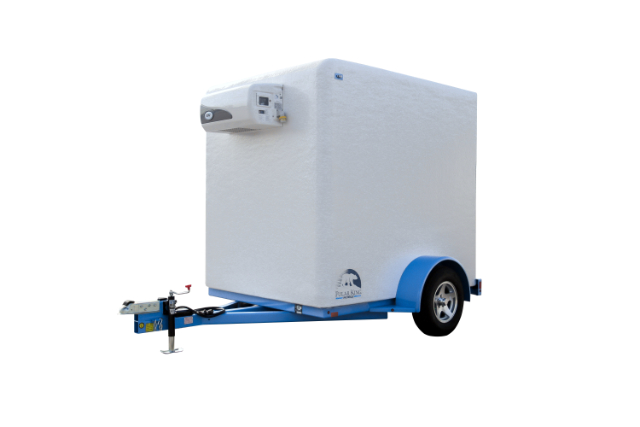 Dimensions: 6′ x 8′
GVWR: 5,000lbs
Trailer: 2,100lbs
Capacity: 2,900lbs
E-Track ReadyPKM612
PKM612
Dimensions: 6′ x 12′
GVWR: 7,000lbs
Trailer: 2,700lbs
Capacity: 4,300lbs
E-Track Ready
PKM616
Dimensions: 6′ x 16′
GVWR: 9,990lbs
Trailer: 3,300lbs
Capacity: 6,690lbs
E-Track Ready
Polar King Mobile Product Specifications
All of Polar King Mobile refrigerated trailers feature a one-piece, seamless fiberglass construction. They are built to last and ready to operate.
Refrigeration Unit
Temperature Range
Construction
4″ thick (R-28) roof and walls
3/4″ Keg Duty Floor
30″ or 54″ x 70″ Door
2 5/16″ Coupler
E-Track Ready
Interior Antimicrobial Gel Coating
Electrical Specifications
About Polar King Mobile Refrigerated Trailers
In North America, there has not been a professional, dedicated, and focused manufacturing company of small, refrigerated cargo trailers. Polar King Mobile has changed all that with its line of mobile refrigeration solutions.
Polar King Mobile refrigerated trailers are not sold directly to the public. Instead, we are recruiting the best trailer distributors from North America to create a national network of value-added resellers. By essentially creating a new segment in the trailer industry, Polar King Mobile hopes the excitement of a new product that can be used by various end-users will open opportunities to dealers in search of something new. For more information about becoming a dealer, contact us today.