Polar King International, the leader in seamless fiberglass outdoor walk-in coolers, is celebrating its 40th anniversary this year.
The story of the seamless one-piece fiberglass design dates to 1978 in South Dakota where brothers Joe and Vince Tippmann began noticing small oil rigs encased in fiberglass.  The two were already producing fiberglass hockey dashers (boards) and wondered if such a seamless design would work for a walk-in refrigeration unit.
Over the following months, after tinkering with the idea here and there, the first two units were built as an 8' x 16' and a 12' x 28'.  And as they say, from there, the rest is history. In 1982 Polar King International, Inc. was formed and caused quite the buzz at the National Restaurant Association Tradeshow where it was first exhibited to the public.
The original production facility was in New Haven, IN, and was only 7,200 sq./ft. with a small crew building a modest number of units each year.  As the company began to gain traction and an opportunity to move to a new facility presented itself in 1991, the company was able to expand its production and was slowly becoming a respected player in the market.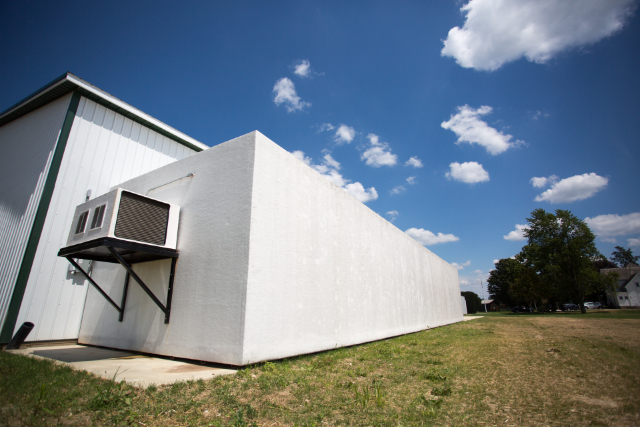 Today, after 40 years, Polar King now occupies more than 250,000 sq/ft of production space and has 2 production shifts manufacturing walk-in coolers, freezers, and trailers: including those for Polar Leasing and Polar King Mobile.
About Polar King
As the industry's #1 manufacturer of seamless fiberglass outdoor walk-in coolers and commercial walk-in freezers, Polar King units are designed to endure even the most rugged conditions and climates. All commercial walk-in coolers and outdoor walk-in freezers are delivered fully assembled and require only a simple electrical connection to put them into operation. With a 100% seamless fiberglass design, Polar King offers the industry's only one-piece, outdoor unit. To learn more about the fiberglass advantage or for more information, call 888-647-8231 or visit www.polarking.com.
Contact
 (888)-647-8231
Email: cooler@polarking.com
Website: www.polarking.com/
Blog: outdoorwalkin.info/
YouTube: www.youtube.com/user/PolarKingIntl
Twitter: @Polar_King_Intl
Facebook: www.facebook.com/PolarKingInternational
Miami-Dade NOA No. 18-0516.05
Florida Produce Approval: FL22694